Electric Wire Rope Hoists
Conventional Wire Rope Hoist
We are Manufacturer, Supplier and Exporter of Electric Wire Rope Hoists, Material Handling Equipments, Spares, Spare Parts, Accessories etc. and our setup is situated in Pune, Maharashtra, India.

We are also specialized in AMC Services ( Annual Maintenance Contract ), Modification, Upgradation, Repair Work, Servicing And Overhauling, Repairing Services, Crane Health Check Up, Crane Safety Certification Services etc. for all our product range.

Motor - Foot mounted squirrel cage induction motor designed and manufactured to IS.325 of reputed make are used. Motors are totally enclosed, half hour rated, with high starting torque, specially design for hoist application. These motors are suitable for frequent start stop operations with braking and are provided with class "B" insulation.

Gears – Alloy steel hobbed teeth helical spur gears with solid pinion running on ball/roller bearings in oil bath lubrication.

Brake – Disc shoe type spring loaded brakes are provided for heavy duty operation. Brakes are mounted on non – diving end of the motor and are easily accessible.

Rope Drum – The rope drum is made from sturdy seamless pipe or fabricated from steel plates and is grooved to achieve maximum lift without over winding.

The drum shaft revolves in ball bearing ensures smooth running.

Wire rope – 6 x 37 construction special plough hempcore flexible steel wire rope, having safety factor of 6 for Class II and 7 for Class III duty is provided on hoist. Galvanized and other construction of rope can be provided for special application.

Rope guide – Our standard hoist carries rope guide and pressure ring as standard feature. Cast iron fully

En-circling guide ring fixed around the grooves of the drum to ensure correct rope lay.

Limit Switch – To avoid over winding or lowering of wire rope, limit switches are provided with each hoist, which ensures highest and lowest position of load hook.

Controls – Each hoist is provided with control panel comprising of standard make heavy duty, direct – on line reversing type air brake contactors, transformer and fuses. All components are housed in dust proof M.S. fabricated sheet metal cabinet. Pendent push button station is provided at adequate height duly suspended by steel chain or wire rope operating at 24/110 volts to avoid accident.

Applications – Steel plants, Power plants, Oil and Gas, Construction sites, Factories, Ware houses, Railway yards, Transporters, Harbours, Marine etc.
---
Modular Wire Rope Hoist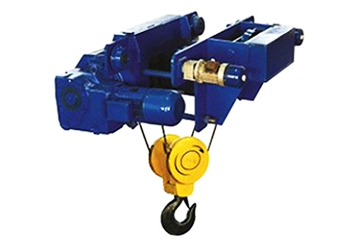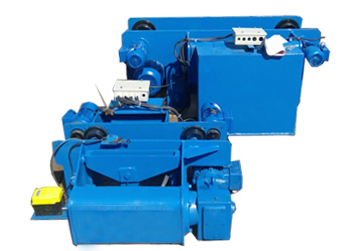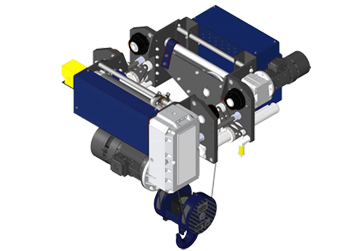 Modular design with German / Italy motors and drives.

Optimized and compact design with low headroom for maximum space.

Light in weight.

Noise free and less maintenance.

VFDs for smooth & jerk less operations.

Heavy duty motor with built – in incorporated brake assembly.

Hollow shaft gear box directly drives the drum shaft.

Case hardened and precision ground gears for smooth running and long life.

Fail safe DCEM disc brakes for all motions.

Rope drum is constructed from a high quality seamless steel tube.

Heavy duty rope guide ensures positive rope scrolling.

Special guide ring is fitted between the wire rope and the guide to maintain the correct tightness of the rope on the drum.

Premium wire rope provides high resistance to fatigue and wear.

Automatic cut-off of the lifting and lowering motions in upper and lower limit positions.

Cut - off position can be adjusted to suit the application.

Over load protection is used as option to prevent lifting excessive loads.

Electronic load measure is used as optional.