Single Girder EOT Cranes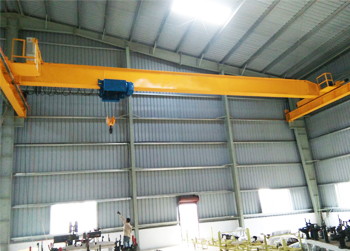 We are Manufacturer, Supplier and Exporter of Single Girder EOT Cranes, Material Handling Equipments, Spares, Spare Parts, Accessories etc. and our setup is situated in Pune, Maharashtra, India. We are also specialized in AMC Services ( Annual Maintenance Contract ), Modification, Upgradation, Repair Work, Servicing And Overhauling, Repairing Services, Crane Health Check Up, Crane Safety Certification Services etc. for all our product range. For less wheel load and economical, light and medium duty application Vtech offers single girder crane with Electric Wire Rope Hoist.
Vtech Single Girder cranes are provided with branded Wire Rope Electric Hoist which are designed and manufactured as per IS : 3938. Open winch type design in modular construction which is suitable for rugged duty applications.

Special Features
Ease in maintenance: Separate sub assembly such as gear box, high torque motor and rope drum facilitates easy maintenance of Electric Hoist.
Plate welded box girders with wide flange for stability & less deflection / vibrations.
Squirrel cage Crane duty motors in International frame size of S4 duty, class B/F insulation confirming to IS: 325 for frequent start / stop operations.
Double grooved rope drum (RH/LH) for straight lifting at all heights.
Rotary and Gravity Limit switches for hoist which eliminates generally used travelling rope guide operated limit switch which is susceptible for breakdown.
Direct Axle mounted Geared Brake motor for Long Travel Drive.
Micro speed arrangement thru' VVVF Drive for precision loading.
Fail safe robust DCEM Disc brake of Nord/SEW for all motions.
Maintenance Platform for regular servicing and maintenance of Electric Hoist and LT Drive.
Option for Electro Hydraulic Thruster Brake for Hoist & Long Travel motion.
Option for custom built hoist with high hoisting & Travel speeds for special requirement & high lift.