JIB Cranes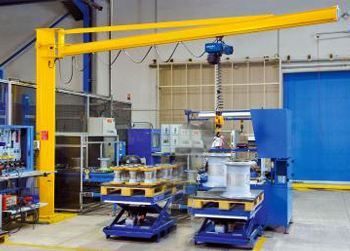 We are Manufacturer, Supplier and Exporter of JIB Cranes, Material Handling Equipments, Spares, Spare Parts, Crane Accessories etc. and our setup is situated in Pune, Maharashtra, India. We are also specialized in AMC Services ( Annual Maintenance Contract ), Modification, Upgradation, Repair Work, Servicing And Overhauling, Repairing Services, Crane Health Check Up, Crane Safety Certification Services etc. for all our product range. VTech Jib cranes are ideal solution for loading unloading jobs on work station/ machine tools or for dispatch sections for loading unloading from trucks. Jib Crane are design and manufactured as per IS:15419.

Special Features
Capacities ranging from 1t to 5t and jib radius from 3m to 6m.
Self supporting ( Pillar mounted ) jib crane with 1800 to 3000 rotation.
Column / wall mounted Jib Cranes with 1800 rotation.
Plate welded box type Jib Arm with wide flange for stability & less deflection / vibrations.
Mast machined in one setting after fabrication ensuring concentricity and easy slewing.
Antifriction Roller and Thrust bearing at top and bottom suspension for easy rotation with full load.
Option for electric chain hoist with motorized trolley of INDEF / Equivalent make for small loads.
Option for Motorized slewing arrangement with 3000.